What You Can Expect
Here's what you can expect from me and my team:
Prompt, professional replies to your phone calls and email messages.
A personal phone consultation with a member of my team prior to your event, so we can better understand how I can best serve you and your audience.
Announcements about your event on my blogs and social media channels. (This assumes that your event is open to the public and you want additional visibility for it.)
A professionally prepared, dynamically delivered presentation emphasizing the priorities of the message you want your audience to hear.
A prompt follow-up communication after the event with someone on my team, to make sure I met your expectations. (I also want to know how you believe I can improve.)
My Most Requested Topics
I speak on topics related to overall health and wellness, leadership, and life balance. I will customize my presentation to facilitate the results you want to achieve.
Good health is essential in accessing tools you need for successful pursuit of your dreams.
I can present any of these as a keynote or a workshop.
Healthy tips on how to have more energy at work and at home. Achieving balance between busy careers and personal time is of special interest to women audiences.
Learn how to distinguish yourself from others, and promote your unique niche by utilizing the most effective branding techniques.
Leaders are born, but leading effectively and promoting harmony for greater productivity is learned. Sharing from my own experiences, I explore what true leadership entails.
Nutritional needs are vital to the healing process after surgery, yet they are rarely addressed. I've devoted an entire book, Heal Up to nutrition and natural alternatives to prescription medications for healing post surgery. I'll share directly from my book–the top 5 tips for healing properly post surgery.
Safe, pain free and non-invasive laser technology is of interest to dental, medical and anti-aging professionals. I bring the most up to date methods of the multi-faceted laser techniques.
Good oral health is often overlooked in persons recovering from drugs, alcohol and eating disorders. Rehabs and other substance abuse treatment center professionals can benefit from learning the importance of treating the mouth along with the mind and body.
Watch Dr. Sanda live at a lecture!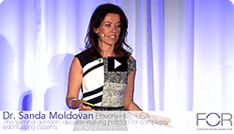 "[Dr. Sanda's lecture] inspired me to get my own health checked out and to consider learning more about incorporating nutrition into my own dental practice."

Laura – Westlake Village, CA