I was born in Transylvania, which is part of Romania in Eastern Europe. My parents immigrated to the United States when I was 14 years old. Having come from a Communist country, I happily embraced the freedom America offered. My newfound liberties afforded me opportunities to pursue a diversified education. It was not always easy, and I had to work very hard to become the professional I am today. I pride myself on being an example to children of all ages—that one must never give up. Dreams can come true—if you are willing to work for them.
I also relate very well to children of all ages and enjoy mentoring younger people. I am frequently asked by schools and non-profit youth organizations to talk to them about developing good oral hygiene habits. I also share with them how they can teach their parents how to shop for nutritious foods. Empowering the entire family to become healthier is one of my greatest passions in life.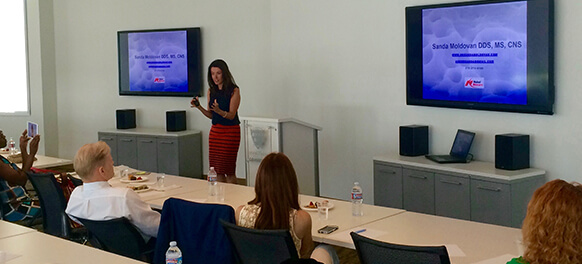 I love my life today. I enjoy a rich personal life which ensures my optimum performance in providing quality care to my patients. My upcoming book, "Heal Up," shares natural alternatives to healing, such as how to use foods as medicine, and supplements that enhance health. When I created my oral health products line, OraSana, my vision was to provide non-toxic, natural choices for preventive oral care. Afterall, the mouth is the gateway to your overall health.
"Everyone enjoyed your discussion immensely. I personally made some dietary changes and feel so much better because of your suggestions."

Richelle – Louisville, KY